Content Marketing is incredibly popular in today's business world, and when used properly it can bring a steady flow of visitors to your brand's website. But how do you get eyes on the informative content that you've invested time and resources into creating?
B2B social media is an excellent way to get the word out, allowing you to target people involved in the exact conversations that you want to be involved in. Below are two tips for utilizing B2B social media tactics to promote your writing and support your content marketing program.
Twitter: Hashtagging your way into their hearts and minds
I've mentioned in an earlier blog that hashtags are like little gifts from the social gods. They allow you to place searchable terms directly into your Twitter posts to target people interested in your topics. Use them mindfully though, because as the image from Buffer below states, "Tweets with one or two hashtags have 21% higher engagement than those with three or more hashtags."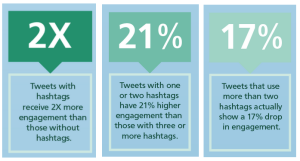 One tool that I use to help decide which hashtags to use for clients is RiteTag. This handy service will show you, using a simple ranking system, how popular any particular hashtag is so that you can make the best decisions to increase the possibility of being noticed. You can even dive deeper to see the hourly rate that the hashtag is being used, as well as which other terms it is often paired with. I've found that it allows me to not only decide if a hashtag is worthy of one of the two spots available, but it also lets me expand into terms that I may not have thought of otherwise.
LinkedIn: Focus on groups
If you're looking to boost the success of your content marketing plan with B2B social media, LinkedIn is a channel that you MUST be present on. In fact, across the board, our clients see more traffic from LinkedIn than Twitter because it is a place where business is getting done. The catch is, that LinkedIn is one of the more tricky platforms for B2B social media engagement because there is no easy way to search for posts about specific topics. This means, that unless posts are published on LinkedIn (losing the pull back to your website), sponsored, shared, or posted to groups, they will never reach past the followers your company currently has.
Let's talk about those groups. They are the best way to harness the power of LinkedIn without opening your wallet. Right now, on LinkedIn, there are millions of groups of professionals gathered to converse about certain topics, goals, or business functions. These groups will allow you to target individuals within your audience and connect with them in a meaningful way. Start by finding groups where your target audience is engaging, and post your helpful content there. Any content that can provide insight and enrich their lives- work or personal- will go the farthest. Just remember, you can't post to groups as a company, you must do it as an individual- bringing a human into your company social media presence.
There you have it, these two tips are the foundation to successfully supporting your content marketing plan through B2B social media. Try them out, find me on Twitter, and let me know how they work for you!
LinkedIn: Emily McDougald | Write2Market  Twitter: @EmilyMcDougald | @write2market